Building High Performing Teams and Partnerships

High Performing Teams
Under pressure, teams often find it easy to focus on what needs to be achieved with less attention paid to how the team works together to deliver these results. Whilst teams need to have a shared purpose and clear goals this alone isn't enough. Research shows that healthy working relationships, with high emotional awareness, healthy conflict and an absence of toxic behaviours are also crucial to a team or partnership's success leading to:

And the presence of healthy relationships also contributes to the health and well being of team members.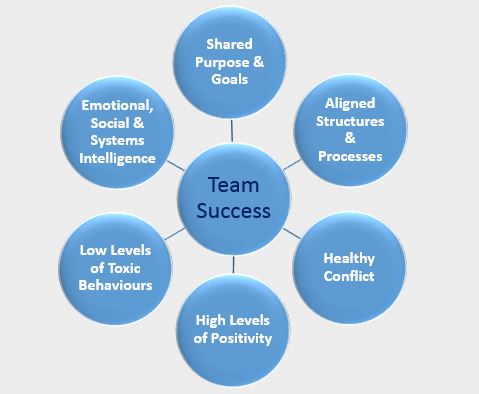 What makes a healthy and well-functioning team?  – emotional, social and relationship systems
A whole host of factors contribute to effective team functioning. Team members need to be skilled at understanding, managing and articulating their own emotions (Emotional Intelligence), as well being able to accurately read others' emotions and empathise (Social Intelligence). In addition for the team or partnership, to work collaboratively it needs to become aware of its own identity as a relationship system and be able to work skilfully with the emotional aspects of the whole team (Systems Intelligence).
Creating a safe learning environment
When working with partnerships and teams we help you to create a safe environment that builds trust and enhances learning. We move the focus away from the individual to the system as a whole helping the whole system to suspend judgement about who is right or wrong to one of curiosity and learning. Once this foundation is in place your partnership or team can start to uncover its strengths and challenges and deepen its understanding of the complex interplay of relationships that is happening within.

Transforming awareness into action
As a partnership or team becomes more aware of itself it will then start to adjust its behaviours, and take action. Using a range of tried and tested tools we facilitate this process to help you rapidly move to a place of awareness, allowing you to transform your way of working and take necessary action. And all of this ultimately leads to a more engaged, productive and happy working environment.
What Next?
If you are interested in learning more about developing high performing teams or partnerships in your organisation we'd love to have a chat. Just get in touch by email or phone, details at the top of this page, and we can schedule in some time to talk.